Exciting news……! Last week Nigel joined me and my boys at home.  He has settled straight in!  Despite stories warning me of how badly he'd sleep, that it would be a nightmare training him to go to the toilet-he has been a little dream puppy.
Nigel was born at the end of May.  He was one of 5 puppies in his litter.  He is a Shiranian-a cross between a Shitzu and a Pomeranian.
He follows me round like a little shadow-all day, everywhere!
Nigel has now had 6 sleeps in his new home.  He's a dream sleeper.  Thankfully!
As for the toilet……he's been pretty amazing.  When the back door opens….out he goes!  Job done!  Then he pops back in.
Nigel is going for his second injection at the end of next week.  Then not long afterwards he can go out and start exploring!  After his injection he's going to head into school to explore school for the first time.  While he's there he's going to admire the new Reception class toilets which are being done at the moment.  After that we'll check out the main roof which is also being repaired this week.
He absolutely loves hugs and snuggles.  But the rest of the time he enjoys running around chasing balls and any other toys for him to play with!  He can already 'come' and 'sit', espcially for treats or for some chicken.
We hope you're all enjoying the holidays.
Kate Byrne and Nigel the puppy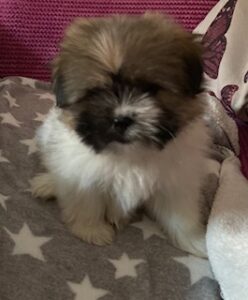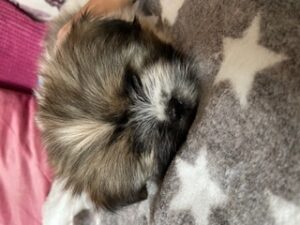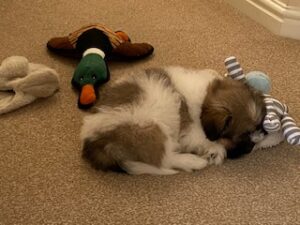 Please follow and like us: