Dear parents and carers, 
This has been an emotional week.  Monday started with the joy and pleasure of having all of our children back in school together.  This is something that we have all looked forward to since the lockdown in January, which happened with immediate effect for us all.  It has been a long week for some children, as they have got back in the routine of getting up and out for school every morning!  I think they are definitely ready for the weekend!  
Today though we are all remembering Frank, by coming into school dressed in his favourite colour-blue.  It was wonderful doing our whole school assembly for the first time in 2021 and seeing a sea of children dressed in their own blue clothes, to remember Frank.  The most enormous thank you to each and every one of you who has donated to Neuroblastoma UK in his memory.  Together, we have raised a whopping £1351 today, to help fund research into this nasty disease.  This is on top of the £960 raised by staff and Reception parents at the start of this term.  That is a truly positive achievement which I have just shared with Rebecca and Craig.  They are deeply touched.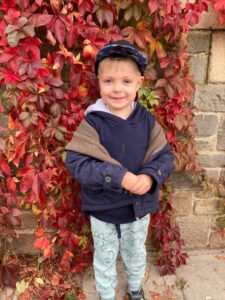 As the better weather is coming and as our children come back together again to enjoy spending time with one another, it is wonderful that we are also going to be developing our outside spaces in memory with Frank.  Something special for our children to enjoy and look forward to and a positive way to remember Frank forever.
Have a lovely weekend.